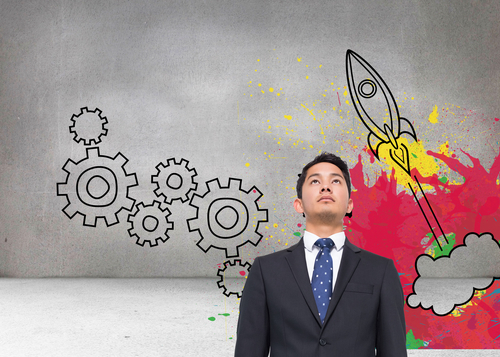 In addition to completing your courses and applying for your real estate licence there is quite a bit more homework you should do before you launch your real estate career. My advice is to slow down and carefully consider the following 3 crucial steps before you get on that rocket.
Step 1: Choose Success
Success in real estate doesn't eventuate from an attitude of "I'll give it a try and see how I go". Either you decide that you are going to do whatever it takes to be a success in real estate or you don't. Like Yoda says "Do or Do Not. There is No Try." There are parts of our roles that we all love and some parts of it that we don't. Professional sports people love playing on game day but don't always enjoy training. Likewise if you want to win in real estate you must be willing to commit to the daily grind and the glory will come. Real estate career success is born of systematic discipline and there are no short cuts. After all most of the real estate stars of today have been working away consistently for 10 years or more.
Step 2: Choose Your Market
When I started in real estate I had an infatuation with high-rise apartments. My thought process went something like this: "High-rise apartments are glamorous and there are lots of them." So I blindly jumped head first into one of Australia's most competitive real estate markets and quickly became a real estate ninja. Luckily I had chosen the right office to work from and I learned from the best of the best in the industry. However, I burnt myself out within a few years and could have made a whole lot more money if I'd have known what I'm about to tell you.
When choosing a market, consider
– The mix of owner occupiers and investors
– How many properties turn over in any given year and the average sale price
– How many real estate agents and agencies are in the area
Step 3: Choose the Right Principal
Once you've decided on a market you need to decide on which agency you'd like to work for. This is one of the most important considerations. Changing agency once you are up and running can be very tricky to negotiate as there should seldom be a time when you do not have current listings and you are not awaiting commissions.
Culture is a buzzword buzzed around by many mindless twats and it is true that it's vital to find a good fit within an organisation. As the culture of the business is lead from the head of the business you must observe the Principal of the agencies you're interested in and find out what their values and presence in the market is like. Sales managers come and go so it's the Principal of the agency who is the one who should be the anchor of the organisation. Get to know the Principal as well as you can. Invite the Principal for coffee. Attend all the events you can including sales meetings, open homes, auctions, training sessions and ask yourself:
TRUST: Would I trust this person to sell my grandmother's house?
TRAINING: Is this person a good trainer?
FAIR: Does this person seem fair and honest in their dealings?
LEADER: Can I count on this person to lead me in the direction of my chosen career?
PROFESSIONAL: Is this person a full time real estate professional, semi retired or hungover every day?
INSPIRATIONAL: Do they inspire and excite you or otherwise?
If you're comfortable that you have the commitment and stamina, a fruitful market and a professional office with all the support and training you need to get you going then you're ready to launch your real estate career. Your success is your choice.
For more info: http://www.huffingtonpost.com/krista-m-sharp/3-crucial-steps-to-launching-a-successful-real-estate-career_b_9192938.html